A HIGHLIGHT FOR LIBOURNE, PU'ER AND THE SAINT-EMILION – POMEROL – FRONSAC WINES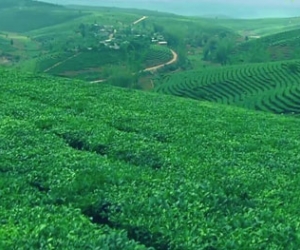 ON DECEMBER 9TH, 2016, THE SAINT-EMILION – POMEROL – FRONSAC WINES EXHIBITION WILL BE INAUGURATED IN PU'ER, CHINA.
The inauguration of the Saint-Emilion-Pomerol-Fronsac wine exhibition in Pu'Er is a major event in the twinning of Libourne and Pu'Er towns. Interview with Philippe Buisson, Mayor of Libourne and Jean-François Galhaud, President of the Saint-Emilion – Pomerol – Fronsac wines.
Cross-examination of Philippe Buisson and Jean-François Galhaud
HOW WAS THIS EXHIBITION PROJECT IN PU'ER AROUND THE SAINT-EMILION – POMEROL – FRONSAC WINES BORN?
Philippe Buisson, Mayor of Libourne: This project was born at the initiative of the town of Pu'Er which sought to create a privileged partnership with a city that represents the excellence of French viticulture, and had in this regard identified Libourne and its wines. So, in the winter of 2011 I received a call from the French Embassy in Beijing, which wanted to put me in touch with the authorities of Pu'Er. I decided to follow it up, in agreement with the appellations of the territory. I immediately saw a great opportunity in this project to bring together the civilizations of tea and wine through the excellence of our products.
Jean-François Galhaud, President of the Saint-Emilion – Pomerol – Fronsac wines: Following the twinning in 2012 of the towns of Pu'Er and Libourne and the Saint-Emilion – Pomerol – Fronsac wines, a lot of tea and wine events were organized, in particular in the city of Libourne. This theme of cross-tasting was enjoyed both by professionals and the general public. After the temporary exhibition of Pu'Er teas in Libourne, we engaged in exchanges with the cultural authorities of Pu'Er to set up this project. We had a real desire to present our culture and our way of winemaking in Pu'Er. The National Pu'Er Teas Museum has agreed to provide its main space for a major exhibition about our wines and our history.
HOW DO YOU SEE THE ROLE OF THIS EXHIBITION?
P.B .: It is a marketing and promotion tool for our wines in Asia and more specifically in China. At this moment, when the Chinese are beginning to consume Bordeaux wines massively, this exhibition helps to enhance the image of our appellations and ensures a pedagogical role in the art of tasting our wines. Moreover, it helps to promote our territories in terms of tourism. Wine tourism for Asian clients is one of our priorities for the Libourne area.
J-F.G.: The museum will be a true ambassador of our wines and traditions, in Pu'Er of course but also for the whole of China. The exhibition will further enrich the links that the town of Libourne and the Saint-Emilion-Pomerol-Fronsac wines maintain with the Chinese. It is a way of showing that beyond the 10,000 kilometers that separate us, we have many points in common.
TEA AND WINE HAVE MANY SIMILARITIES. WHAT CORRESPONDENCES ARE MOST INTERESTING BETWEEN THE SAINT-EMILION – POMEROL – FRONSAC WINES AND THE PU'ER TEAS?
P.B .: The resemblance in the making of Pu'Er teas and Bordeaux wines is striking and there is no shortage of similarities: varieties, secular culture, health benefits thanks to polyphenol, prestige of the product. As such, a Pu'Er tea farm is like a wine cellar.
J-F.G.: The most striking similarities between tea and wine are, for me, in their making and tasting. Indeed, the terroir and the climate are essential for the right making of the teas, as for the wines of our region which benefit from an exceptional natural environment. The harvest is done carefully, the sorting of tea leaves is done by hand, then there is the fermentation of teas and sometimes even some blending. We find all these elements in the making of our wines. There is also the same conviviality and the same sharing at the time of tasting, during which the same methods of approach are used: the sight, the nose and finally the taste to identify all the aromas and tannins that emerge from the two drinks. It's really fascinating.
CAN YOU TELL US ABOUT ONE OF YOUR VISITS TO PU'ER AND THE DISCOVERY OF THE PLACES WHERE TEA IS PRODUCED? WHAT DID YOU FEEL?
J-F.G.: President of the Saint-Emilion – Pomerol – Fronsac wines for one year, I have not yet had the opportunity to go to Pu'Er but I await this first visit with impatience. The inauguration of the exhibition on December 9 will be an opportunity for me to discover this fabulous environment. On the other hand, I heard a lot about it from my winegrowing friends who were part of the first delegation: everyone was delighted with their stay and always talks about it with some magic …
P.B.: Pu'Er tea is grown on the foothills of Tibet, on the border of Yunnan, in a province renowned for its quality of life and well-being culture. It is a very remote province of China on the border of Burma, Laos and Thailand, where many ethnic minorities live peacefully. Going there to discover the Pu'Er teas is also an opportunity to see the exceptional landscapes and meet its inhabitants with ancient cultures. I have a fond memory of my first visit to this province where the welcome in each village was exceptional, a diplomatic visit level!
WHAT ADVICE CAN YOU GIVE TO A WINE LOVER WHO WANTS TO DISCOVER THE PU'ER'S TEAS?
J-F.G.: Just as for wines, it is not necessary to be an expert to appreciate teas. Just listen to your sensations, respect the product and be well surrounded! Tasting can also be a game: someone who wishes to discover the Pu'Er teas can do it by tasting several teas, from several different vintages. It is very interesting to taste the different aromas of the Pu'Er teas and to make, as tradition demands, different successive infusions.
WHAT IS YOUR VIEW OF THE COLLABORATION BETWEEN LIBOURNE, PU'ER AND THE SAINT-EMILION-POMEROL-FRONSAC WINES?
P.B.: This collaboration is anything but folklore; It allows us to be one step ahead of the other terroirs opening China to our wine products and better understand the expectations and needs of Chinese consumers, who are keen to learn more about the tasting of our wines. It will also enable us to make lasting friendships between our peoples.
J-F.G. : C'est une collaboration très importante pour nos viticulteurs. Elle permet de renforcer nos connexions avec la Chine, de partager nos valeurs communes sous un nouvel angle dans la présentation de nos vins. On dépasse le simple échange commercial et l'on parle ainsi du respect de nos patrimoines et de nos traditions. Nous sommes très fiers que la ville de Libourne et les vins de Saint-Emilion – Pomerol – Fronsac soient associés avec les thés et la ville de Pu'Er et nous espérons que cette collaboration continuera encore longtemps de prospérer. De nombreuses pistes sont déjà en cours d'étude pour 2017.