IN SAINT-EMILION, SMALL DARK ROOMS FULL OF MAGIC
At the head of the commanderie de Bordeaux in Shanghai, Andrew Bigbee is a Bordeaux wines enthusiast, and he is particularly passionate about Saint-Émilion.
A PARTICULAR AFFECTION FOR SAINT-EMILION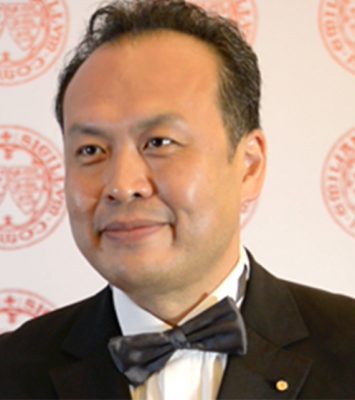 Andrew Bigbee will always remember visiting a Saint-Emilion château's cellar. You have to know that in the Bordeaux châteaux, there is often a small dark room where very old wines are stored. Andrew Bigbee is still surprised by a proposition made to him by a winemaker: "I asked who those bottles were for, knowing that they're usually kept for heads of states or very famous people. And he just suggested to open one for lunch!". Faced with such simplicity, Andrew Bigbee was left gobsmacked.


A SHARED PASSION
Andrew Bigbee is, by nature, a sharing man. Fascinated by Saint-Emilion wines, he clearly likes to talk about them: "Saint-Emilion wines represent a soil, a land", says Andrew Bigbee. This land, Bordeaux's right bank, where Merlot, Cabernet Franc and Cabernet Sauvignonoffer wines that he qualifies as "elegant, with a nice balance". Wines at the same time are strong and silky, that go well with Asian cuisine, says Andrew Bigbee, who has Chinese origins. He adds that in each Chinese region, there are dishes that "go very well with Saint-Emilion wines". In their diversity, those wines are suitable to all tables. We can also play with millésimes to find a perfect pairing with Chinese cuisine!