FAADA FREDDY: "I FELT A NEW INSPIRATION" AT THE 2016 SAINT-EMILION JAZZ FESTIVAL
Halfway between gospel, rap, Senegalese folk, pop and soul, Faada Freddy's music conquered the public of the Hall of the Dominicans during the Saint-Emilion Jazz Festival (July 22 to 24, 2016). He offered an acoustic interpretation (guitar-vocals) of his first solo album "Gospel Journey". An album exclusively built around voice and body percussion.
THE SENEGALESE SINGER THRILLED THE HALL OF THE DOMINICANS ONLY WITH HIS VOICE AND HIS GUITAR.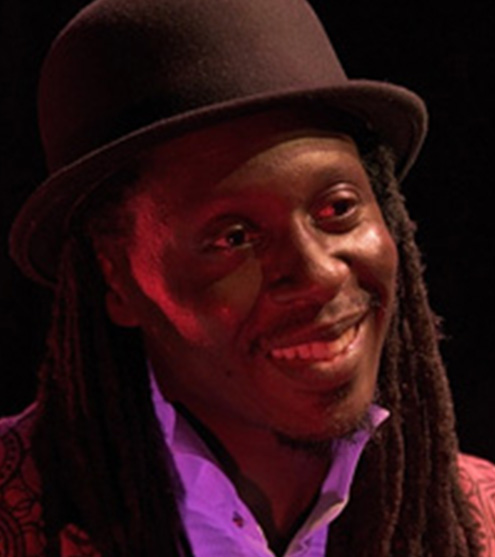 AN UNEXPECTED INSPIRATION
It was not a first performance for the man in the bowler hat, dreadlocks and dandy suit, yet he felt "the love of the audience" of Saint-Emilion from the first minutes on stage, from the first notes of music.
"I was tired but as soon as I walked on stage, there was a wave of good energy. There is no revitaliser or a vitamin that is as effective as an audience that gives love. I felt like family. To the point that I made new songs and I asked for their opinion. Here, I rediscovered myself". Faada Freddy
The concert was a real sharing between the artist and the audience. For not only did Faada Freddy offered new songs, but also improvised with a captivated audience. "I asked the audience to give me notes of music, and pieces were created. There is a new emotion that was born.An emotion that I never had and that I intend to perpetuate and even integrate into what I will do in the future".

THE SAINT-EMILION JAZZ FESTIVAL, A FIRST!
"I discovered the festival while preparing my tour. I wondered what was this festival that invited Marcus Miller . As soon as I arrived, I started talking to people and I understood: the spirit of the people here is in the subtlety and this is what interests me".
Enthusiast of "wild, raw, natural, not too thoughtful, instinctive music", Faada Freddy appreciated the delicacy of the Saint-Emilion Jazz Festival, as its wines.
"Just from the smell of the Saint-Emilion wines, I can feel the fine work". Faada Freddy
This work, the musician, makes it himself since childhood by taking the melodies to the voice.
His inspiration, Faada Freddy gets it during his travels and concerts. This time it is the energy released in the Saint-Emilion Jazz Festival that gave new impetus! "This is the kind of festival that inspires me and gives me strength to continue".