ERALD SACKS, HEARTFELT FOR SAINT-EMILION WINES
Expert taster, he was seduced first by the winemakers' loveliness and their wines, and then he became a happy Jurade Chancellor.
GERALD SACKS IS THE JURADE CHANCELLOR, A SAINT-EMILION WINES REPRESENTATIVE IN THE SOUTH OF ENGLAND.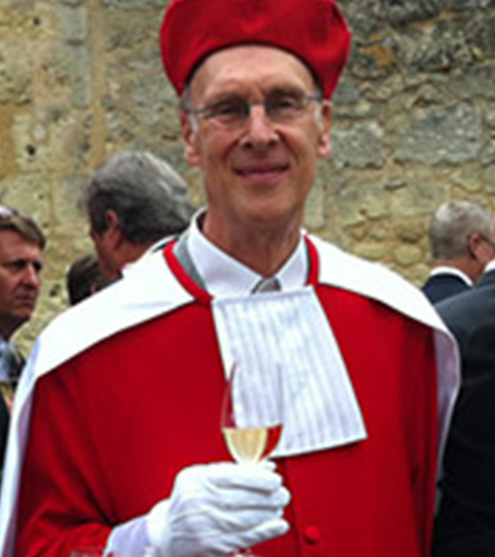 IN LOVE WITH THE SAINT-EMILION WINES
 "I've always liked wine. When I started tasting Saint-Emilion wines, I quickly fell in love!" Gerald SACKS remembers. "Since then, I try to rediscover the pleasure of this first initiation", he adds. To explain this passion, Gerald SACKS first talks about the grape varieties: "Saint-Emilion wines are dominated by the Merlot grape, it makes fine, round, fruity, elegant wines which are nevertheless accessible. Those are my favorite wines". The proof is in his personal cellar: more than half of his thousands of bottles is made of Saint-Emilion wines.

SAINT-EMILION WINEMAKERS' HOSPITALITY
Gerald SACKS' story with Saint-Emilion is also a human adventure: "just after my discovery of the Saint-Emilion wines, I took part in a travel for the Ban des Vendanges (Harvesting), which is the start of the grape picking. I was able to appreciate the winemakers' hospitality". Since then, Gerald SACKS goes to the village of Saint-Emilion every year in September. He has since enjoyed watching the Jurade parade, before becoming himself a member: "the inauguration was one of my life's big moments".

THE JURADE CHANCELLOR'S MISSION
A member of the Saint-Emilion Jurade, Gerald SACKS is proud to wear its red dress: " I am now an actor in the life of Saint-Emilion and its Jurade, and not only a spectator anymore". It is therefore with a lot of energy that he shares his taste for Saint-Emilion wines in England: "I want to encourage everybody to live such beautiful experiences as I have". For this, Gerald SACKS regularly organizes tastings in the south of England. Soon, he will even have the chance of taking a group to the UNESCO-classified village. For Gerald SACKS, Saint-Emilion wines have to be savored and above all, shared.