Grégory Privat, Sonny Troupé and Gustav Karlstrom
MUSIC CAN BE TASTED AT SAINT-EMILION JAZZ FESTIVAL 2015
As part of the Saint-Emilion Jazz Festival 2015 Gregory Privat, Sonny Troupé and Gustav Karlstrom will share their emotions born out of Saint-Emilion wines tastings. A rare event to share on July 19th, in the company of seven young Saint-Emilion winemakers.
WOULD YOU LIKE TO ENJOY A GOOD JAZZ IMPROVISATION?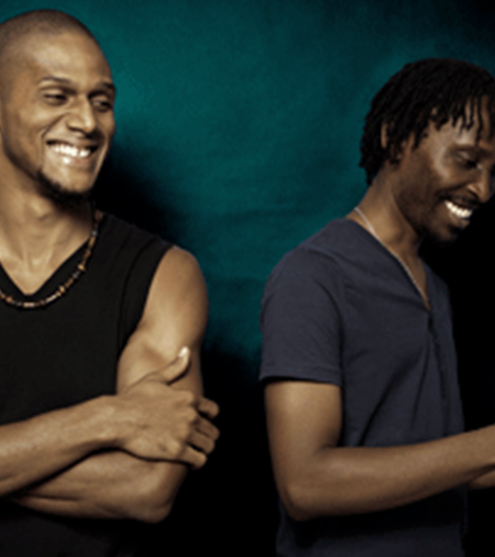 WINE TASTING TO THE MUSIC
It is a true experience to which you are invited by the "Arômes de Jeunesse", an association whose objective is to make wine accessible to everyone. The young Saint-Emilion winegrowers will present their wines with passion, alongside some music of their choice. The wines are then interpreted by an exceptional trio. "We will taste the wines and improvise around the sensations they give us", explains Gregory Privat. The pianist will be accompanied by Sonny Troupé ("master of the Gwo Ka Music from Guadeloupe ") and Gustav Karlstrom ("an amazing singer"). Together, they will engage in "a common understanding and a musical collaboration", he adds. "Sonny Troupé Karlstrom and Gustav have the ability to tell stories with their art. They can turn their feelings and sensations in music", he tells us.

THE MAKING OF SAINT-EMILION WINES IS AN ART
"Enthusiastic" about the idea of participating in this musical experiment, Grégory Privat believes that jazz and wine have a common point: they result from the same artistic process. "The winemakers are artists, they seek a balance and are picky about what they want to obtain", he explains. Transforming a Saint-Emilion wine tasting into jazzy chords appears as a logical sequence. "As an artist, we experience sensations and we get to bring out something else, in my case this is expressed in music", says the pianist. If the blue note gives jazz its color, what may a "red note" inspired by Saint-Emilion wines look like? "If we sense the roundness while tasting a wine, this can translate to, for example, the medium and the serious. From there, I can start a piece of music or an improvisation ", he tells us.
La Dégustation Musicale, led by Grégory Privat, will take place Sunday, July 19th at 16:00 in the Dominicains Room in the company of  the "Arômes de Jeunesse" association. To book your place, visit the Saint-Emilion Jazz Festival website.