JEAN-BAPTISTE ELISSALDE, WINE IS FOR SHARING

Two Six Nations tournaments, three European Cups with Stade Toulousain and two championships in France. Since the Spring Festival in 2015 in Saint-Emilion, Jean-Baptiste Elissalde can add another title, but not least: Vigneron d'Honneur de la Jurade and Bourgeois de Saint-Emilion.
THE FORMER RUGBY PLAYER HAS MANY TROPHIES ON HIS MANTELPIECE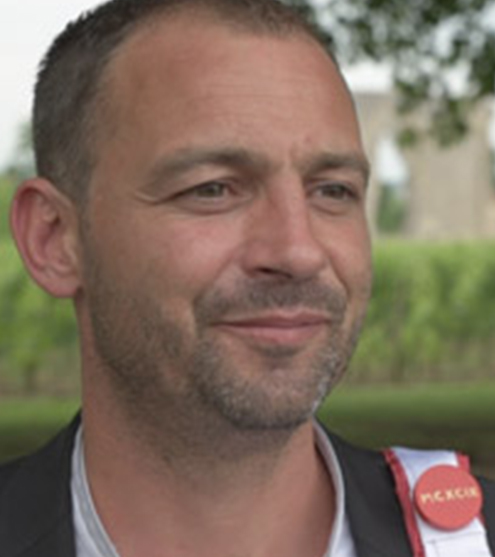 WINE AND RUGBY, TWO FAMILY PASSIONS
 At the Elissaldes, we like to pass on. If Jean-Baptiste Elissalde attended the rugby fields early on, he owes it to his father, former international Jean-Pierre Elissalde and his grandfather, Laurent Bidart. For wine, it is similar, Jean-Baptiste Elissalde first observed his father. Saint-Emilion wines? "I discovered them through the family, my father loves wine". Then it's through friendship that the former player personally got interested in it: "I have a friend who works in the wine world, little by little, he introduced me to the families here".

AMBASSADOR TO THE SAINT-EMILION WINES
Wine lover and a friend of Saint-Emilion, Jean-Baptiste Elissalde was both touched and surprised to be honored by the Jurade of Saint-Emilion: "I have not contributed much to the Saint-Emilion wine", he says modestly, "It is an honor to be here and to experience moments like this". A sash with the Jurade's colors on his shoulder, the new inductee is warmly welcomed by his Saint-Emilion friends: "My best memories here are the people I have met. There are families and exceptional people".

THE UNION AND SHARING AS COMMON VALUES 
Not surprisingly, the ideal tasting for Jean-Baptiste Elissalde is a sharing moment "With family and close friends". For him, wine is a great excuse to live unforgettable moments. Besides, sharing is a value deep-rooted in the life of the former coach of Stade Toulousain: "In our sport, there is this force that oozes out the team for a good game of rugby". A sense of community and friendship, which he finds with the Saint-Emilion winemakers, "these are the values that they share. They try to, through hard work and sweat, produce a good product". For Jean-Baptiste Elissalde, unity is strength. Saint-Emilion wines have found a pretty nice ambassador.