Nile Rodgers is one of the biggest hitmaker in the world. For over 30 years, the name of this guitarist, songwriter and producer has been linked to an incredible number of hits. Chic's leader was headline at the Saint-Emilion Jazz Festival 2013, the year of his huge success, Get Lucky, with Daft Punk. In the heat of the summer, we talked about Saint-Emilion wines with a happy man.
CHIC'S LEADER WAS HEADLINE AT THE SAINT-EMILION JAZZ FESTIVAL 2013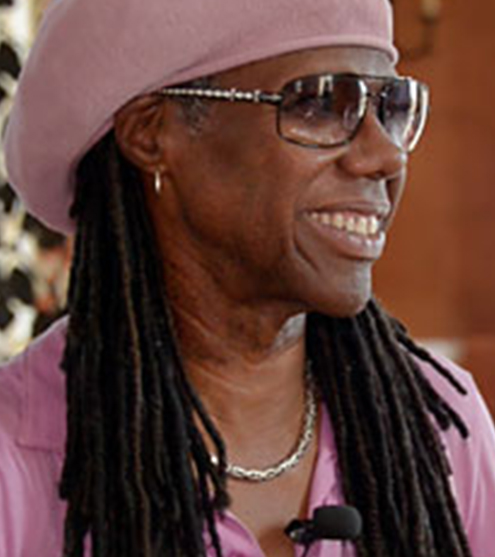 IN SAINT-ÉMILION, WHEN TALKING ABOUT WINE, WE TALK ABOUT A VINTAGE, HOW DO YOU SEE YOUR 2013 VINTAGE? 
Nile Rodgers (smiling): It's a great vintage! When I think about it, I have known many beautiful years. I signed my first contract in 1977, 1978 is the year of The Freak our greatest success. 1979 saw the release of We Are Family, 1980 reminds me of Diana Ross, in 1983, it was David Bowie's turn, 1984 is linked to Madonna's Like a Virgin, 1985 brings me back to Duran Duran. Over the years, many records came out and now,in 2013, there is this collaboration with Daft Punk!

ACH FESTIVAL HAS ITS OWN ATMOSPHERE, HOW WOULD YOU DESCRIBE THE ONE OF SAINT-EMILION, KNOWN WORLDWIDE FOR ITS WINE? 
N. R.: The place brings serenety. It's interesting because usually when we're on a tour, we feel the stress. Here, just before playing, we feel relaxed. We see people walking in the village's streets with the same state of mind, relaxed. This is very different from festivals where we usually play.
WHICH OF YOUR SONGS GOES BEST WITH A GLASS OF SAINT-ÉMILION WINE ? 
N. R.: Every Chic song goes good with wine! For Saint-Émilion, that would probably be one of our more "classy" songs. Good Times would be good because it's a classy and classic but still feels good kind of song. It can be a serious song but it can also be a festive song. This song goes perfect with a glass of Saint-Emilion wine.