NINA ATTAL, THE FUNK AND SOUL ENERGY AT SAINT-EMILION JAZZ FESTIVAL 2015
Accompanied by her musicians, the young woman will present Wha, her new album, at Saint-Emilion Jazz Festival, a sound influenced by soul, funk and pop with a powerful efficiency.
SINGER, GUITARIST AND A SONGWRITER, NINA ATTAL DOES NOT OCCUR ONLY ON STAGE: SHE EATS.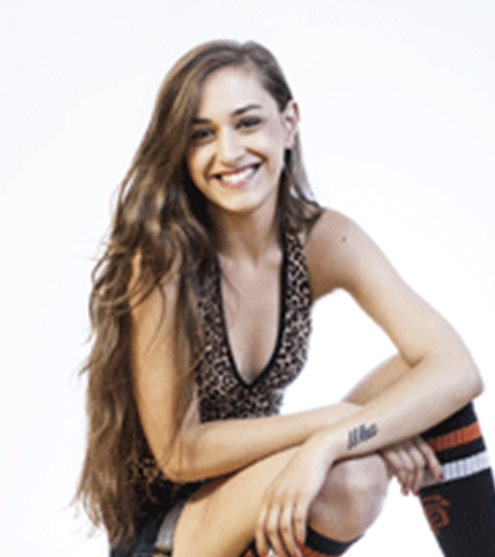 JERRY BARNES FROM THE CHIC BAND IS UNDER NINA ATTAL'S SPELL 
Nina Attal is a tiny woman 23 years of age whose energy on stage is amazing. It must be said that the young guitarist already has solid experience. Surrounded by six musicians, she has been performing sixty dates per year for the past six years. At the Saint-Emilion Jazz Festival, she will play her new album called Wha, that she coproduced with Philippe Devin, co-author/writer and artistic director for this album, born after an encounter with Jerry Barnes, the bassist of the group Chic. "He loved our music and offered to write an album together, we obviously said yes and we started recording in New York", recalls Nina Attal. Today, the musician has become something of a mentor, "he brought us his experience and knowledge. It allowed us to realize our ideas and especially to record with musicians we admire such as Steve Jordan", she adds.
2015, THE TRANSITION TO THE NEXT LEVEL
If her first self-produced disc in 2011, Yellow 6/17 was noticed, Nina Attal admits she felt "very small and intimidated" in the recording studio in New York, but "there was a dialogue and sharing between us and it was very rewarding".
The young funk and soul diva is not the demotivating type and was able to bring the experience of Jerry Barnes' "youth, freshness and energy", she tells us. What is true in the studio is also true in a concert: "On stage we are energetic, we want to give the maximum on each date". Nina Attal is a real hard worker who always seeks to "put out a quality show, with dancing and interaction in the group", she tells us. "We are very close in life and it shows on stage, they give everything", she adds.
MILES DAVIS AND SAINT-EMILION
Nina Attal knows the reputation of the Saint Emilion Jazz Festival, she, herself, is a wine enthusiast. "I hope I can bring some back", she amuses. Besides, what would be the perfect soundtrack to accompany a glass of Saint-Emilion? "Miles Davis! Listening to classic jazz whilesipping a glass of good wine, it is a very appreciable moment". She could have said Aretha Franklin and Chaka Khan, who are her idols and also those with whom she is often compared to. "I'm very happy about it, they are women I get likened to and this inspires me today. But my aim is to find myself. I am young, one is always discovering oneself".
Find the youth and dynamism of Nina Attal on stage Sunday, July 19 at the Saint-Emilion Jazz Festival 2015. Meet at the Park Guadet 22 hours, the concert is free.