TOBY FLOOD, THIRST FOR LEARNING
Fly half of the Stade Toulousain since 2014, Toby Flood fell in love with Saint-Emilion wines, and the feeling is mutual: during the 2015 Spring Festival, the player was inducted into the Jurade of Saint-Emilion.
STAR OF ENGLISH RUGBY (60 SELECTIONS), THE SUCCESSOR TO JONNY WILKINSON IN THE NATIONAL TEAM WILL NOT TAKE LONG TO ADOPT FRANCE.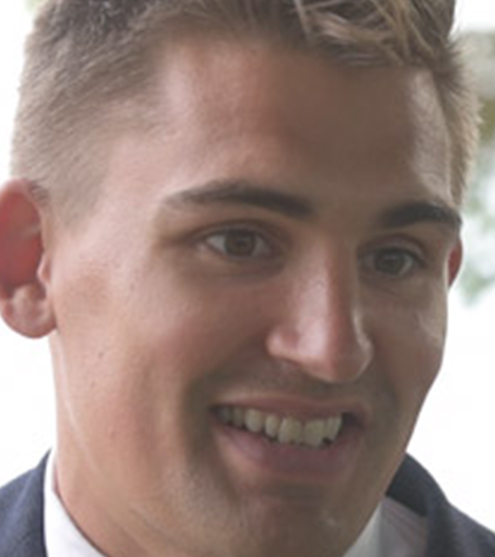 SAINT-EMILION WINES, A STORY OF FRIENDSHIP
Leaving Leicester Tigers to Stade Toulousain in 2014, Toby Flood has not only made a career choice. He also discovered a world he did not know: Saint-Emilion wines. "I have a friend who lives here and who told me that I should come to taste the wine", he said in a a French with noticeable British accent. Always ready for an adventure, the Englishman followed the advice and did not regret: "That was a year ago and since then I have learned a lot. When I discovered the wine here, it opened my eyes".

BEING INDUCTED INTO THE JURADE SAINT-EMILION, A "TOP EXPERIENCE"
Sash on the shoulder in the colors of the Jurade and big smile on his lips, Toby Flood became Vigneron d'Honneur de la Jurade and Bourgeois de Saint-Emilion: "Today, for me, it is a top experience". Regarding the Jurade, it is specified that these titles are reserved for personalities it sees fit to honor. On both sides, there is that mutual esteem. Toby Flood, a hard worker himself, appreciates "The work, work and more work", high quality wines need to be developed.

SAINT-EMILION, A WINE MOSAIC
Happy about his induction ("I'm now part of the clan"), Toby Flood has every intention to continue his exploration of Saint-Emilion terroir: "I want to understand more". This requires meeting people and wine tastings: "I love the terroir. The differences between each wine are exceptional". Enough to fascinate this curious character. We have not finished seeing the new Bourgeois de Saint-Emilion visit his adopted village and his vineyard!