TOMMY SHAN: RESTAURANT OWNER AND POET…
In partnership with his brother Andy, Tommy Shan has helped put Szechuan cuisine on the map in France. For decades now, the brothers have been experimenting with innovative food-wine combinations at their restaurant in Bordeaux – 'Au Bonheur du Palais'.
"THE STRUCTURE OF THE SAINT-EMILION TERROIR FASCINATES ME, AND THE MERLOT IS INCREDIBLY ELEGANT."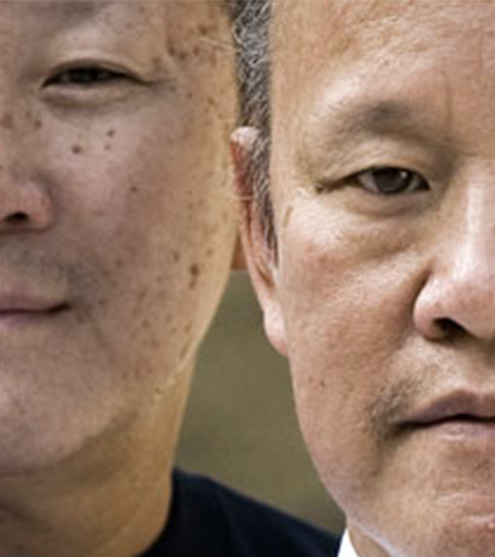 China's Sichuan province is bigger than France, and the region's cuisine is most famous for its powerful peppery flavours, so it may come as some surprise to learn that these exotic dishes can be used to complement a good Saint Emilion. Of course, there are a few rules to be observed…

"The structure of the Saint-Emilion terroir fascinates me," enthuses Tommy, "and the Merlot is incredibly elegant. But with Chinese cuisine, if the sweetness is too prominent it can be much harder to get that food-wine combination right." Saint-Emilion is an iconic name in the wine world, enjoying a peerless reputation.

Nonetheless, for Tommy Shan prudence is an essential virtue: "I prefer to say that a dish and a wine are 'not incompatible'… the mixture of sweet and savoury flavours which makes Asian cuisine special is not always ideal for the elegant, well-structured wines of Saint-Emilion."

Always maintaining this cautious approach, years of exploration have led Tommy to the conclusion that meat-based dishes are the best bet. "But you shouldn't be afraid to add some spice: ginger can create some truly amazing combinations, as can garlic cooked in rice wine vinegar. In the restaurant we serve roast pork and duck, taking great care not to let the spices caramelise, and when we serve these dishes with a good Saint-Emilion the results are magical!" Tommy Shan appreciates the importance of elegance and precision: in his spare time he translates poetry into Mandarin. After a quarter of a century spent in quest of the finest food-wine pairings, Tommy confesses a particular soft spot for the wines of Château Bel Air, Château Angelus and Château Soutard.

Tommy Shan – Restaurant Le Bonheur du Palais – Bordeaux (Gironde – France)