Discover #instantsaintemilion, the special moments that make the heart of Saint-Émilion beat a little faster
A FAST-PACED YEAR IN SAINT‑ÉMILION
THERE IS ALWAYS SOMETHING HAPPENING IN SAINT-ÉMILION!
Saint-Émilion wines have something to invite you to throughout the year!
Come and join us to enjoy a friendly chat and share a glass at an event also attended by Saint-Émilion professionals, who are delighted to meet you!
These very special, precious experiences of friendship that only Saint-Émilion can offer, are Saint-Émilion Moments.
EVENTS YOU SIMPLY CAN'T MISS
Enjoy memorable exchanges, new and surprising experiences, and events as delightful and diverse as our Saint-Émilion wines.
The Coupe des Crus on 30th January 2023 at the Palais de la Bourse de Bordeaux
Since 1999, the Saint-Émilion Wine Council has organised a knock-out competition between different wines. Jury members perform a blind tasting of three vintages from each chateau in competing pairs. The wines that win their matches go through to the next round.
The Saint-Émilion Open Doors on 29, 30 April & 1st May 2023
During a weekend of festivities, come and tour the chateaux that make up the Saint-Émilion winegrowing area. Winegrowers open their doors free of charge and are delighted to welcome visitors.
The wines of Saint‑Émilion on the road
The Saint-Emilion Wine Trip is a very well attended meeting by amateurs and neophytes, and is a really popular success. It must be said that every effort has been made: a beautiful vintage van, mouthwatering wines, a very welcoming team of winemakers and a wonderful atmosphere!Since 2016, its creation year: 39 stops and 50 000 glasses served.
Jurade events
The Jurade organises celebrations throughout the year with two Grand Chapters: The Spring Festival (third Sunday in June) and the Harvest Proclamation (third Sunday in September).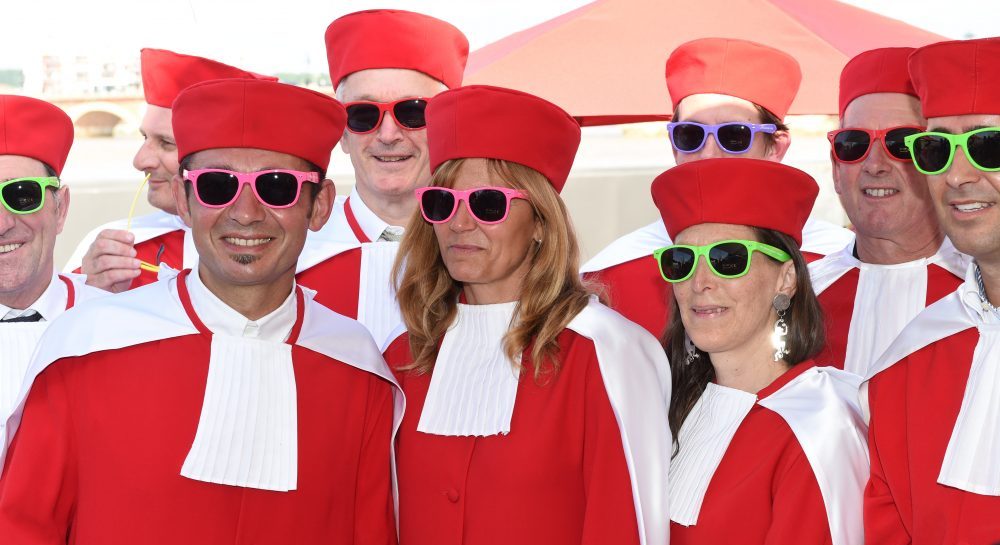 SO MANY GREAT MOMENTS TO SHARE IN SAINT-ÉMILION!
A year in Saint-Émilion often flies by given the quick succession of events on the calendar. Join us for moments dedicated to culture, sport, gastronomy or meeting professionals, with a focus on relaxation, learning and open exchange, both in France and abroad, but always under the Saint-Émilion banner.