JEAN-PIERRE COMO, SENSITIVITY AT FINGERTIPS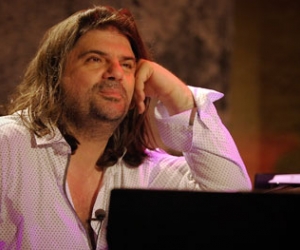 FOR HIS FIRST TIME AT THE SAINT-EMILION JAZZ FESTIVAL, THE PIANIST JEAN-PIERRE COMO EXERCISED HIS SENSITIVITY IN THE INTIMACY OF THE HALL OF DOMINICANS.
THE WINES OF SAINT-EMILION AKA THE ART OF HOSPITALITY
"I had never been to Saint-Emilion and I find it incredible, this small village surrounded by these vineyards. It will stay in my heart!" smiles the pianist moved by what he experienced. What has most affected Jean-Pierre Como is the welcome that was reserved to him and his six other musicians.
"I have rarely seen such a reception. I did a lot of concerts, festivals, but to this extend, no. It is inexplicable but it touched me deeply!"

Jean-Pierre Como
Once behind his keys, the pianist transmits this sensitivity to his fingertips. Accompanied by six musicians, the concert was a true communion with the public in the hall of Dominicans. Magical. (Jean-Pierre Como was accompanied by singers Hugh Coltman and Walter Ricci, guitarist Louis Winsberg, drummer Stephane Huchard, bassist and double-bassist Jérôme Regard and saxophonist, Stéphane Guillaume).
"The public's reaction was a nice surprise. A hearty and astonishing surprise to see that people were so attentive, moved or joyful throughout the concert".

Jean-Pierre Como
THE SAINT-EMILION JAZZ FESTIVAL AKA THE ART OF INSPIRING MUSIC
As for winemakers, the know-how and the emotions of the musicians exalt while sharing.
"When we create wine, it is a bit like us: there is creativity, we try things, if it doesn't go well, then we come back to it and then share it. Wine is sharing, and this is perhaps why I feel good! "

Jean-Pierre Como
This parallel between wine and jazz was a real inspiration for the pianist, so much that he plans to return to compose in Saint-Emilion, this time as a solo pianist.
"I will do everything to do it. I will come, lock myself, work like a beast and must sort something. I can not be more sincere because I was really touched. It was a sweet moment, an important interlude … When you're there, you feel protected. It'll go far into my heart, for a long time and it will take time for me to recover."

Jean-Pierre Como
The opportunity to see Jean-Pierre Como in the streets of Saint-Emilion? The musician promises it. The Saint-Emilion Jazz Festival, as the medieval city, continues to inspire the greatest!