SAINT-ÉMILION IS CELEBRATING THE HARVEST!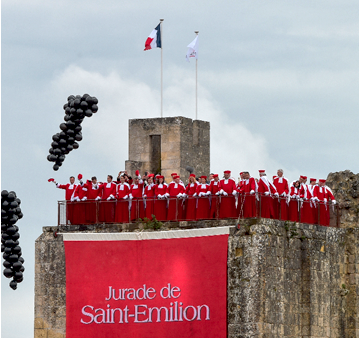 The harvest has begun for the winegrowers of Saint-Émilion and its satellite appellations. This crucial stage in the winemaking process inspires numerous festivities in the medieval town of Saint-Émilion each year.
THE BAN DES VENDANGES – WHERE PAST MEETS FUTURE TO CELEBRATE THE NEW VINTAGE
According to the time-honoured tradition, the Jurats of Saint-Émilion proclaimed the "Ban des Vendanges" to mark the start of the new harvest.
This traditional event takes place every 3rd Sunday of September, and celebrates a year of hard work in the vineyard and the start of the grape picking season. This year, the Ban des Vendanges was also the occasion to induct 37 famous personalities from all walks of life – including rugby players Imanol Harinordoquy and Damien Traille – in the moat of the Palais Cardinal.
11 new jurats, or aldermen, also joined the vinous brotherhood during the ceremony.
2018 HERITAGE DAYS LIT UP SAINT-ÉMILION!
The medieval town of Saint-Émilion welcomed numerous culture vultures and history lovers during the annual Heritage Days. A comprehensive programme was offered to visitors, featuring tours of historic monuments, including the monolithic church, the moats of the Palais Cardinal, and the Tour du Roi, etc.
The Jurade de Saint-Émilion led its traditional torchlit procession through the town's narrow streets, accompanied by bagpipe players, and the night culminated in a spectacular firework display.