STEPHANE BELMONDO, MUSICAL IMPROVISATION IN CHEVAL BLANC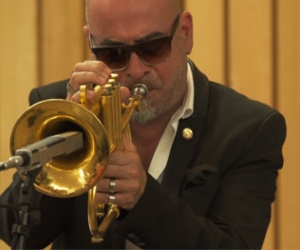 IN THE CELLARS OF CHÂTEAU CHEVAL BLANC, THE STEPHANE BELMONDO TRIO PLAYED THE MUSICAL TASTING GAME.
Trumpeter Stephane Belmondo is the most musician most faithful to the Saint-Emilion Jazz Festival. For the 4th year running, the spiritual son of Chet Baker was one of the headliners. In the cellars of Château Cheval Blanc, the Stephane Belmondo Trio played the Musical tasting game. While the public tasted great Saint-Emilion wines, the musicians interpreted them. Emotional.
THE MELODY LIKE THE WINE: THE ART OF BREATHING
If he fosters laughter and conviviality, Stéphane Belmondo is not the same when playing. When he seizes his trumpet, his face is focussed. The musician looks within himself for the truth, to give the tune a rare intensity. And that's when the emotion arises. While the wine's aromas exhale in the mouth, the trio's music slowly stretches the sensations of tasting. An art of breathing dear to Stéphane Belmondo, a way to pick the moment.
"You have to let the melody breathe. I always tell young musicians and forever students, including myself, that breathing is very important in music. This is also true in life. When we speak, when we exchange or while listening it is paramount. A wine must also breathe. I like the breath of life".
THE SAINT-EMILION WINES, LISTENING TO FEELINGS
During the Musical tasting, Stephane Belmondo was accompanied by Jesse Van Ruller on guitar and Thomas Bramerie on bass. All three tasted the wines along with the audience, before delivering a musical impression. To interpret a 2011 vintage with power, with a fresh frame, the trio chose Béatrice by the saxophonist Sam Rivers. For the 2008 vintage, marked by abundant rain in spring followed by a dry and fresh summer, the trio went for a classic from the Broadway era, It's a rainy day. One way to emphasize the freshness of the Cabernet Franc grape.
"This is not an easy exercise, but we had a lot of fun improvising on those wines that are really fantastic. Obviously, you need to know where the wine comes from, knowledge of assembly, etc. We base ourselves on the nose, taste, mouth. I hope we were clear".
Seeing the faces of wine and jazz lovers, it was a successful exercise. They left with the lasting memory of a suspended moment. Stephane Belmondo, inducted by the Jurade de Saint-Emilion in 2015, took the opportunity to once again proclaim his friendship to the Saint-Emilion winegrowers.