TASTING A SAINT-ÉMILION AND ENJOYING IT
Tasting a Saint-Émilion involves a few simple steps to get to know it, experience it, understand it and enjoy it quite naturally.
The only "method" that exists is based on the natural way, you would drink a glass of wine: you would look at it, smell it, taste it and spit it out or swallow it depending on the circumstances, and finally express your opinion. These simple steps are followed by emotions of wonder and enjoyment, and can spark the imagination and all sorts of comparisons, because the experience is so subjective.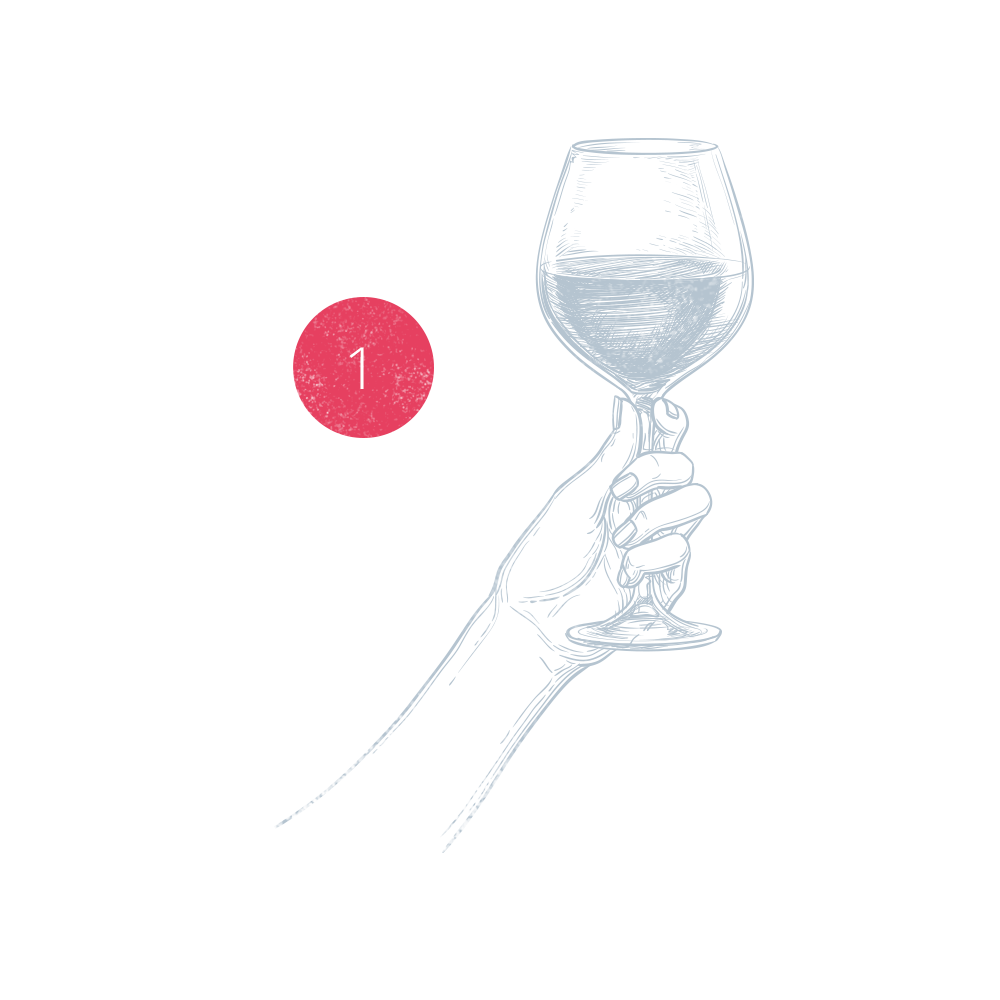 TAKE THE WINE
Take the wine in your hand in a glass that displays it well.
Hold the foot of the glass rather than the bowl, so that you do not warm the wine with the palm of your hand.
LOOK AT THE WINE
Observe the wine. This visual contact can be enthralling. Try to distinguish the different nuances of colour that make up its robe. Do this by tipping the glass at around 45 degrees in front of you. Position a neutral white background behind the glass, so you can perceive the real colour and miss no shade or tint. You can form an idea of a wine's intensity and age by observing it properly. Is it dark and therefore dense and tannic, or clear and light?
Is it more of a purple colour and therefore young, or more orange and therefore old? Swirl the wine around the inside of the glass and watch the tears that dribble slowly down the glass. These "tears" or "legs" reveal the alcohol in the wine. The more you see, the more alcohol there will be in the wine and the bigger and rounder it will be on the palate.
THE COLOURS OF SAINT-ÉMILION WINES
Saint-Émilion wines are of course red, but throughout their lives they display a whole range of nuances. When they are young, they are predominantly ruby-coloured. Later, garnet and purple tints appear. As the wine evolves, hints of tile-red and orange emerge. Finally, the oldest wines are brown, when you observe the light passing through them. So, everything is a question of maturity.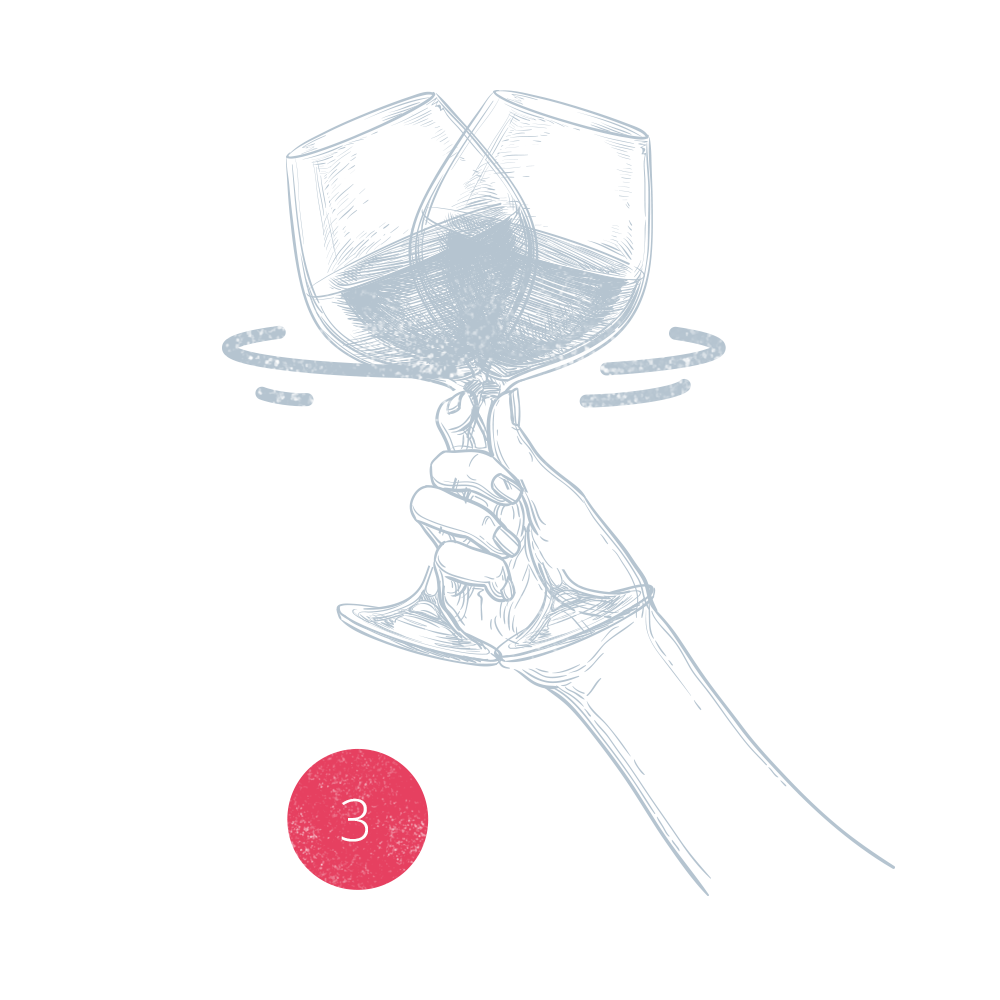 SMELL THE WINE
Smell the wine and identify its pleasant aromas. Gently swirling the wine in its glass increases the evaporation of its scents. The aromas that arise are richer and more intense.
Saint-Émilion wines are made up roughly of 70% Merlot, 20% Cabernet Franc and 10% Cabernet Sauvignon. Merlot contributes aromas of red and black berries. Cabernet Franc contributes subtlety and elegance. Cabernet Sauvignon with its classy tannins, builds ageing potential.
Young wines display fresh, fruity aromas. Old wines release aromas of fruit steeped in brandy and natural leather, toasted smells, etc.
TASTE THE WINE
Lift it to your lips and taste it. This is a fascinating instant. The nectar runs over your lips and your eyes close. Now, wait a few seconds. A small mouthful is enough to capture the four basic flavours: bitter, acidic, sweet and salty. Allow the mouthful to move around in your mouth, so the wine's volume can express itself fully. You experience the wine's texture. Sweetness or acidity, sharpness or dryness. Then breathe a little air into your mouth to mix it with the wine and sharpen your taste buds. This is what is referred to as retronasal or mouth smell. And finally taste the wine! And the aftertaste and length on the palate will be revealed.

Tasting a wine is in fact quite straightforward
We all have the equipment necessary: two eyes, a nose and a mouth. Not to mention your memory, which can also play an important role. Certain Saint-Émilion wines leave unforgettable memories. Their names are connected with such strong feelings that they are instantly recognisable.
TASTING WINE ALSO INVOLVES FINDING THE WORDS TO TALK ABOUT IT
The vocabulary of professionals, oenologists and connoisseurs is packed with technical terms. See our glossary where you will find some basic words to help you "speak wine". But again, tasting wine is all about personal enjoyment. Don't feel intimidated by the terminology and simply describe what you experience. After tasting a few wines, your vocabulary will become richer and you will gain precision: mouth-filling, heady, no-nonsense, etc. Find the best word to describe the wine you are tasting!
RECOGNISING A GREAT SAINT-ÉMILION WINE
Tasting wines is subjective enjoyment. However, certain wines appear great for more concrete and objective reasons.
A wine connoisseur will recognise this immediately. On the palate he or she will detect a balance between three quite tangible tasting characteristics: alcohol content, acidity and tannin.
When these three factors are crafted into a subtle balance and in addition there is a good finish, nice aromatic persistence and attractive keeping potential, it can be said that this is a great wine.