TOM IBARRA AT THE 2016 SAINT-EMILION JAZZ FESTIVAL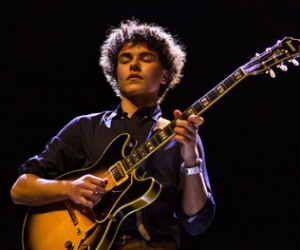 TOM IBARRA, A TALENTED 16-YEAR-OLD COMPOSER AND GUITARIST, WILL PLAY WITH HIS TOM IBARRA QUARTET GROUP.
Tom Ibarra, a talented 16-year-old composer and guitarist, will play with his Tom Ibarra Quartet group, during one of the free concerts offered at the 2016 Saint Emilion Jazz Festival. See you on Saturday 23rd July at 18h30.
Whilst only 16, Tom Ibarra is already a talented composer and guitarist, winner of numerous awards. Coming to the Saint Emilion Jazz Festival is an "honor" for the boy who plans to pass his literary baccalaureate a month before.
TOM IBARRA, THE TALENT OF YOUTH
Tom Ibarra is humility associated with talent. The prodigy will play on Saturday 23rd July 2016 a free concert at the Saint-Emilion Jazz Festival. He will be joined by his band Tom Ibarra Quartet made of Jean-Marie Morin (bass), Christophe De Miras (keyboard) and Pierre Lucbert (drums).
Tom Ibarra first started playing guitar at the age of 5 with "Menou", his maternal grandfather, himself a former guitarist and self-taught multi-instrumentalist. "Then, I started listening to Joe Satriani but also Jimmy Hendrix and rhythm and blues. I also love baroque music, especially Johann Sebastian Bach", he says. From 11 years on, Tom Ibarra has enough musical bases to compose his first songs. Today, his music is influenced by funk-fusion-rock, from Miles Davis to Weather Report, Prince or Uzeb … a music he has so far played and composed by ear. It is only recently that theory has been part of his learning. The young man has a guitar under his skin but not just! To compose, he also plays bass, keyboard and adds drums with a synthesizer.
A FIRST EXPECTATION AT THE 2016 SAINT-EMILION JAZZ FESTIVAL
It will be Tom Ibarra's first stage at the Saint-Emilion Jazz Festival. And as for his other concerts, he's there to share what he has "in the head" and especially so that "the others enjoy it". Coming to the Saint-Emilion Jazz Festival is also a pride, to appear "among big names like Marcus Miller or Electro Deluxe!".
A motivation that also comes from the pleasure of playing in front of jazz connoisseurs. "That's what's interesting in this kind of festival", says the young man. On stage, Tom Ibarra obviously knows how to make his instrument speak, with a dexterity that makes you want to (re)take guitar lessons. You can check it with pieces of his composition from his first album, but also new ones, not to mention the homage made to Miles Davis with a cover of So What.
Find the Tom Ibarra Quartet Saturday 23rd July 2016 at 18h30 at Guadet Park. The program of all the concerts is available on the website of the 2016 Saint-Emilion Jazz Festival.