BRUNO DUMERY, THE PLEASURE OF WINE IS FOR SHARING
Since he arrived in Saint-Emilion 25 years ago, Bruno Dumery, director of Maison du Vin, has started creating memories, but the most notable remains the time he tasted old millésimes "I was in awe!". For someone who loves Saint-Emilion wines, "round, generous" as he likes to describe them, the idea of sharing is essential. "When you drink wine on your own, there is no particular enjoyment. It's important to be able to discuss the quality of the product". The Saint-Emilion Open Days are a good opportunity to recall the importance of this value. "On this occasion, visitors can go into the cellars, talk with the winemakers, this is what they look for.". The conviviality felt during those days give a particular atmosphere. The program of the Ecole du Vin contributes to making those four days a delightful moment focused on the Saint-Emilion wines!
BRUNO DUMERY, DIRECTOR OF MAISON DU VIN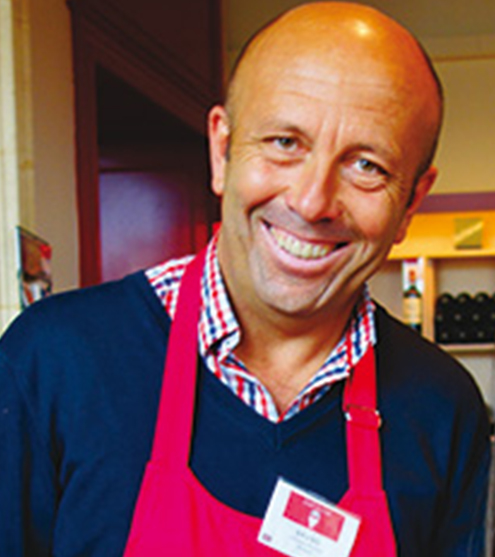 HOW TO ENJOY SAINT-EMILION WINES?
The introduction to tasting morning workshops are directed to all visitors, who want to evolve, like Bruno Dumery points out "they have a knowledge of wine they didn't have 20 years ago". During this complete discovery, directed by a professional, food and wine pairings are suggested, to remind that Saint-Emilion wines go perfectly well with various dishes.
Fee: 25€/person.
Registration at Maison du Vin in Saint-Emilion or by phone on (0033) 5 57 55 50 55

OUT TO DISCOVER SAINT-EMILION GRANDS CRUS CLASSÉS
 The most knowledgeable, or the most curious, will go towards Grands Crus Classés commented tasting sessions, with a presentation of the properties. In 1 hour, 4 wines will be proposed to participants.
Fee: 20€/person.
Registration at Maison du Vin in Saint-Emilion or by phone on (0033) 5 57 55 50 55