La Jurade de Saint-Emilion célèbre le Ban des Vendanges
The Jurade of Saint-Emilion celebrates the Ban des Vendanges and the 137th anniversary of the foundation of the Saint-Emilion Wine Council.
The torchlight procession of the Jurats
The procession is a tradition since the reconstitution of the Jurade in 1948. By following in the footsteps of their predecessors, the Jurats and inductees confirm their attachment to the vineyards of Saint-Emilion. It is also a moment of sharing with the passers-by being in the city.
On the occasion of the Night of the Patrimony, the Jurats parade in Saint-Emilion torches in the hand. Thus, on Saturday, September 18, the passers-by could discover this tradition of the Jurade. Preceded by flag throwers and a pipe band, the Jurats strolled to the Tour du Roy for a sound and light show followed by a magnificent fireworks display.
Ban des Vendanges 2021: the joy of meeting again
While in 2020 the Ban des Vendanges had to be dematerialized, it is with an undisguised pleasure that Jurats and guests met again this Sunday, September 19, 2021. On this occasion, 6 new members joined the Jurade: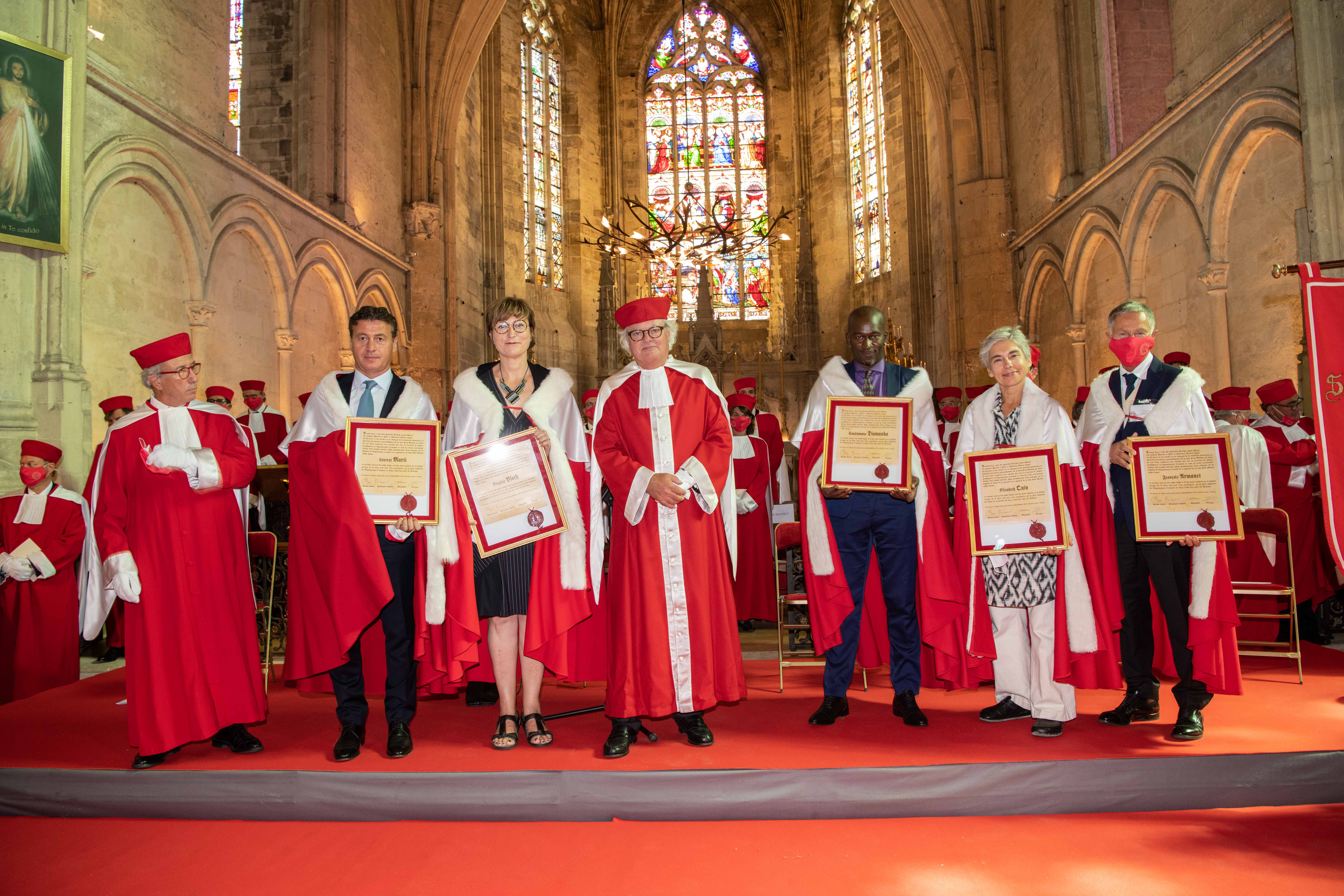 28 personalities were then inducted in the heart of the collegiate church. Among them, Elisabeth Quin, journalist, writer, and TV presenter, François Armanet, editor in chief at L'Obs, journalist, writer but also director and producer, Laurent Marti, businessman and president of the Union Bordeaux-Bègles, Brigitte Bloch, city councillor at the Bordeaux city hall and vice-president of Bordeaux Métropole, and Souleymane Diamanka, poet-slammer, writer and actor.
The Ban des Vendanges is a Chapter of the Jurade of Saint-Emilion. Historically, the date of the beginning of the grape harvest was publicly debated in order to ensure the best possible quality of Saint-Emilion wines. An administrative authorization was then given to the wine growers to be able to start the grape harvest. Today, the calendar is no longer imposed on all, but the Jurade continues to perpetuate the tradition of this ceremony. Thus, after lunch, the Jurats climbed the steps of the Tour du Roy to officially proclaim the Ban des Vendanges.
Photo credits : © Jean-Bernard NADEAU