The guardians of traditions
Des ambassades dans le monde
To promote the fame of Saint-Émilion wines throughout the world, the Jurade has built up a network of Chancelleries all over the world which is progressively enlarged as the years go by. There are Chancelleries in England (in York and Oxford), Belgium (in Flanders and Wallonia), Malta, China (Hong Kong and Beijing), Côte d'Ivoire (in Abidjan), Singapore and Kuala Lumpur.
Throughout the year, these embassies for Saint-Émilion wines organize wine-tasting sessions, dinners, meetings and other various events for enthusiasts and professionals. To sustain the strong bonds which link the Jurade and its Chancelleries, the Jurats visit one of them every year. When this happens, the host Chancellerie organizes an exceptional Chapter, during which new ambassadors of Saint-Émilion wines are inducted.
The chancelleries show their commitment to remain faithful to certain values as they proclaim with a single voice "Always loyal to Saint-Émilion!"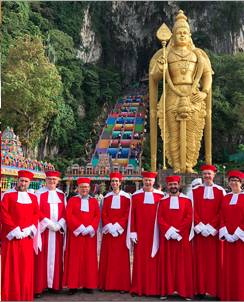 PASSING ON THE VALUES AND PROMOTING THE WORLDWIDE FAME OF SAINT-EMILION WINES.
The Chancelleries are the embassies of Saint-Émilion wines throughout the world. The creation of a Chancellerie is always greeted as a historic moment for the wines of Saint-Émilion and for the bonds of friendship which tie them to the host country.
Their role is to strengthen the development of cultural exchanges and trade by means of a series of events and meetings organized every year (wine-tasting sessions, receptions, etc.) and to ensure that the values of Saint-Émilion are passed on.
Click on the country and city of your choice to access a chancellery file.