Bordeaux Jazz All Star Septet
SAINT-EMILION JAZZ FESTIVAL 2015: A TRIBUTE TO ART BLAKEY
There will be 80 musicians and 14 concerts at the Saint-Emilion Jazz Festival 2015 from 17th to 19th July. Among the 10 free concerts, Bordeaux Jazz All Star Septet will pay a tribute to Art Blakey.
ON THE PROGRAM: SWING, ENERGY AND GUARANTEED EMOTIONS!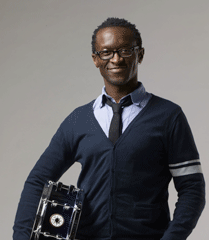 ART BLAKEY PLAYED BY THE BORDEAUX JAZZ ALL STAR SEPTET

 Cream of musicians from the Bordeaux region will close the second day of the Saint-Emilion Jazz Festival! The Bordeaux Jazz All Star Septet will perform on Saturday, 18th July in the Guadet Park from 22:00, at a free concert. Roger Biwandu will be holding the baton to lead this unique experience. The 42-year-old drummer said that he is looking forward to playing the timeless songs of Art Blakey. Why this tribute? "Art Blakey is an institution. Many greats went through his home", says Roger Biwandu. "The artist produced a sound so loud, it was like an orchestra all by himself", he says, laughing. The American drummer has, moreover, "totally" influenced the career of Roger Biwandu because he "is one of those masters he must deconstruct. He showed leadership and everyone follows".

FOR ROGER BIWANDU, "JAZZ AND WINE GO WELL TOGETHER"
Roger Biwandu is an artist, but also a great wine enthusiast, he believes "that wine and jazz go very well together". According to him, "it is because they have a common side that's noble and classy and, at the same time, very down to earth. Jazz comes from the blues, it is a black American music and there is an earthly connection". Playing in Saint-Emilion, wine area par excellence, was therefore obvious. Roger Biwandu is also an avid spectator of Saint-Emilion Jazz Festival, he likes the atmosphere "rustic and light". While the event celebrates its 4th edition, the drummer remembers being touched by the performances of Jacky Terrasson in 2012 and Chick Corea in 2013. This year, festival programmers have trusted him. With a group consisting of Laurent Agnes (trumpet), Sébastien Arruti (trombone), Alex Golino and Shekinah Gatto (saxophone), Francis Fontès (piano), Olivier Gatto (doublebass), the stage belongs to him!
Find the program of Saint-Emilion Jazz Festival 2015 on the official website.