THE JURADE'S ICONIC SAINT-ÉMILION EVENTS
The Jurade was founded more than 800 years ago. It celebrates the history of the wines of Saint-Émilion and promotes their success throughout the world. It regularly organises functions and induction ceremonies through which the 140 Jurats perpetuate the values of sharing, learning, handing down knowledge and tradition.
The Chapters are highlights in the Jurade year both in France and abroad: the Spring Festival and the Harvest Proclamation are the main events in Saint-Émilion.
The Jurade Chancelleries also organise many events throughout the year in their respective countries.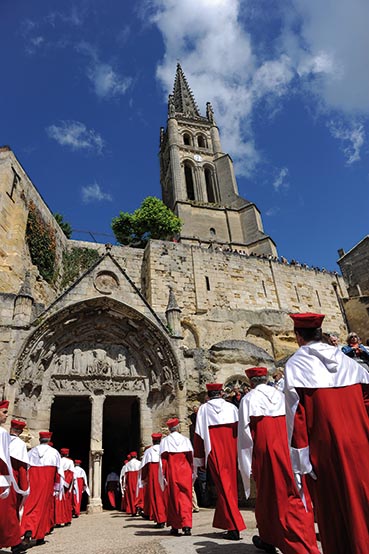 THE HARVEST PROCLAMATION (BAN DES VENDANGES)
The Harvest Proclamation in Saint-Émilion was held on 16th September 2018 to launch the harvest period.
As the key objective has always been a quest for quality, historically experts were sent into the vineyards to ensure that the grapes had reached optimal ripeness.
The Jurade could then proclaim the lifting of the ban on picking.
Today, the ceremony is a link between the past and the present and an opportunity to celebrate the vintage harvested.
THE SPRING FESTIVAL
On the 3rd Sunday in June, the Saint-Émilion Jurade celebrates the Spring Festival. The day of revelry often serves as an opportunity to induct new members of the Jurade who thereby become ambassadors of Saint-Émilion wines. The Spring Festival has become a landmark in the long history of Saint-Émilion. Like all the traditional celebrations, the Spring Festival is linked to the natural growth cycle. In June, the Jurisdiction celebrates new life in the vines, which turns flowers into promising bunches of grapes.